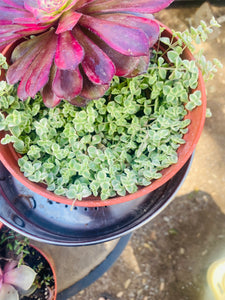 Owlivia Creations
8 inch Aeonium W/ Little Missy Variegated Sedum
Regular price
$20.00
Sale price
$30.00
Unit price
per
8 inch rooted marriages aeonium wrapped with little mossy sedum already grown into the pot . 
If you would repot . Just pre-dig a hole and place inside the hole . No soil needed on top just sides . And it will take off grow taller like aeoniums do and the little missy will grow into ground cover filling the pot or ground . 


perfect for those who want the ground covered. Little missy will turn pink when stressed but the sun as well . 


---